Backed by years of research, ReBorn literally sheds new light on the market for professional non-invasive fat reduction. By optimizing medical-grade Power LEDs, ReBorn provides uniform, homogenous heat that is specifically optimized for indications like non-invasive professional fat reduction, which translates into unbeatable clinical results.
Light source
Wavelength
Pulse width
Treatment area of single
treatment applicator
No. of applicators
Max. power density
Max. power output
Power LED
940nm (infrared)
CW
TECHNICAL DIMENSIONS & WEIGHT
Height – panel deployed
Height – panel folded
Width
Depth
Weight
131.5cm (51.75″)
105cm (41.25″)
35cm (13.75″)
52.5cm (20.75″)
40kg (110 lbs)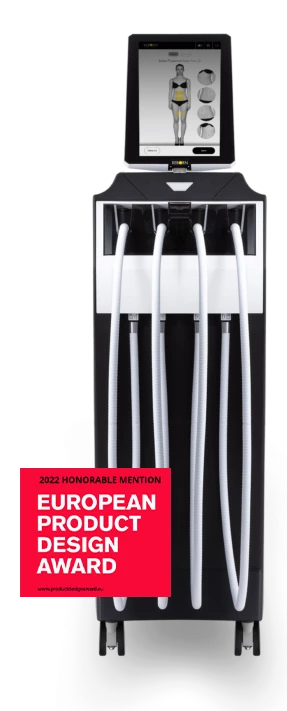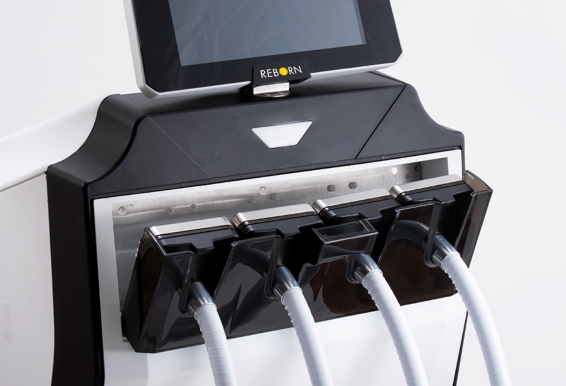 CUTTING EDGE INNOVATION & ENGINEERING
ReBorn is a prime example of top-notch innovation and engineering working in tandem. The system is comprised of 4 lightweight ergonomic treatment applicators with a matrix array of 63 (9×7) Power LEDs in the 940nm IR range – creating a 7x5cm² spot size with a semi-wide (80°) optical angle that is x1.45 bigger than competition and the largest effective spot size in the industry.
The use of Power LEDs has enabled us to develop a lighter and more flexible applicator with a smaller overall footprint. Our patented, integrated contact cooling system ensures patient safety and comfort, with no pain or downtime.
UNIFORM TEMPERATURE. HOMOGENOUS COVERAGE.
Fat cell apoptosis for fat reduction requires applying a uniform temperature of 43°-47°C to the fat cells over a treatment period of ~35 min. Unlike other light-based technologies which suffer from heat disparities of up to 60% across the spot size, ReBorn delivers highly homogenous heat coverage, yielding superior, consistent clinical outcomes with no degradation.
ReBorn is packed with benefits for both practitioners and patients
ReBorn can reduce unwanted fat on the abdomen, flanks, back, thighs, and arms.
It is ideal for people who wish to avoid invasive treatments.
To learn how ReBorn's Power LED advantage can benefit your practice, visit our Partner page Partner page